Sciatica Chiropractor Chicago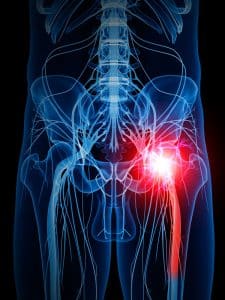 Do you suffer from pain on your lower back through your hips and buttocks and down each leg?  Grandview Health Partners is a leading chiropractor clinic for sciatica treament in Chicago. We offer several treatment options including a natural solution to relieve and manage pain on your lower back, hips and legs.
Understanding lower back, hip and leg pain and how it affects you may help you relieve and manage it with routine chiropractic care at our clinic.
Chiropractors helping Sciatic Nerve Pain patients in Chicago IL
What is Sciatica?
Sciatica refers to pain that radiates along the path of the sciatic nerve, which branches from your lower back through your hips and buttocks and down each leg. … Sciatica can occur when a herniated disk, bone spur on the spine or narrowing of the spine (spinal stenosis) compresses part of the nerve.  Discs are tire-like structures that sit between the bones of the spine. If the outer rim of the disc tears, usually due to routine pressure on the lower back, the jelly-like inner material can come out and pinch or inflame the nearby nerve. Sciatica is most common in people 30 to 50.
Doctores Mas can successfully treat those who are suffering with sciatica.  We prepare a treatment plan which specifically focuses on the cause of the sciatica as well as the patient's individual symptoms and responses to different types of treatments.  Sciatica must be treated on an individualized basis:
A proper and well-planned combination of treatment options is considered to be the most effective course and many patients will try a few combinations of the following treatment options.  There are several nonsurgical treatments for sciatica that help in relieving pain to include:
Manual therapy and manipulation: Joint Mobilization, Myofascial Release, Stretching for an individual joint area that is stuck or is currently experiencing reduced range of motion.
Stretches: which help improve your flexibility, reduce pain and help you recover.
Physical therapy: which utilizes a mixture of therapeutic exercises, strength training and neuromuscular reeducation.
Physiotherapy treatments: Therapeutic Ultrasound, Electrical Muscle Stimulation, Mechanical Traction, Paraffin Bath, Ice/Heat therapies, Kinesio Taping.
Anti-inflammatory medications like non-steroidal anti-inflammatory drugs (NSAIDs, i-e ibuprofen, naproxen or COX-2 inhibitors) or other oral steroids can be used to relieve the inflammation.
If the sciatica is unresponsive to conservative care:
Epidural steroid injections can help reduce inflammation around the nerve roots and decrease the associated lower back pain
To help keep the lower back pain and leg pain in control, especially when undergoing the nonsurgical treatments, patients can take pain medications
Surgery is an option for some patients to consider when more conservative treatment options have not worked.
How do you know if it is sciatica?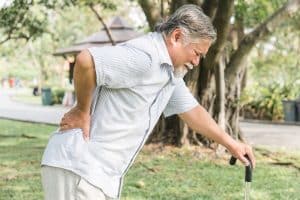 The key to diagnosing sciatica is a thorough history and a focused exam. Diagnostic imaging including x-ray or MRI may provide the doctor a better idea of the cause of sciatica.  The symptoms of sciatica are often worse with sitting or coughing, and may be accompanied by numbness or tingling in the leg. A physical exam can confirm that the sciatic nerve is involved, to look for weakness or diminished reflexes in the legs that suggest that someone needs early referral to a specialist.
Truth: Sciatica Can Last For Much Longer, Depending on the Cause
A number of cases of sciatica will go away within a matter of a few weeks with the help of conservative treatment methods that include treatment with a chiropractor. However, this may not be the case for all patients. Sciatica can last much longer and sometimes patients may require a referral for additional treatment with a medical specialist such as a doctor that specializes in Pain Management, or a spinal surgeon.
Truth: Surgery May Be The Best Treatment Option For Some Patients
It goes without saying that you shouldn't wait too long for surgery nor should you hop into surgery too soon. The plan is to exhaust all conservative options for treatment such as exercise, chiropractic care, injections and physical therapy before considering surgery. When non-surgical treatments such as these have not helped and the patient is in severe pain or is losing neurological function, then surgery may be the most appropriate treatment option.
Truth: Exercise Is Usually Critical To Help With Healing The Problem Which Is Causing Sciatica
Some patients believe that if they stay in bed and avoid all kinds of physical activities, this is a way to make their pain go away. However, avoiding physical activity or any kind of activity at all can make things worse. Not getting proper exercise leads to weakening of the muscles in your lower back which makes them less able to support the upper half of your body and the spinal area. Exercise helps move nutrients in and out of the tissues and intervertebral  discs that may be injured. Nutrients help to keep these tissues healthy and healthy tissues are more resistant to injuries that can lead to sciatica. Grandview Health Partners will put together some gentle exercises including stretching, strengthening and low-impact aerobic exercise as part of our patients' treatment plan. Even when the sciatica is relieved and all other back problems have been treated it is important to continue the exercise routine to ensure proper support and stabilization of the spine.
Before you start any exercise program, always consult a health professional. This is important because once the cause of sciatica has been diagnosed, your healthcare professional will then advise you on exercise that will be the most appropriate and which ones should be avoided.
Truth: It is Best to Work With a Professional Before Self-Treating Sciatica
Without any doubt, whether it is sciatica or any other health condition, patients shouldn't attempt self-treatment. Especially for sciatica, they should consult with a health professional. When a correct diagnosis is established, it is the first step towards sciatica relief. Sciatica treatment options and precautions may be different for each patient and only a professional can determine if there is a more serious problem and what necessary actions should be taken in the early stages to prevent any further damage.
If you want to see if chiropractic care is right for your condition, please contact our chiropractors for sciatica treatment in Chicago to get the appropriate treatment for you. Call or contact us today to schedule an appointment.
Grandview Health Partners Chiropractic Chicago
Average rating:
1 reviews
Feb 28, 2020
The chiropractors are simply amazing. I have been going to Grandview Health Partners for over a year now and my experiences have been great so far. Most recently, I crutched my way into the office having injured myself while playing basketball and when the chiropractor was done making his adjustments I walked out with the crutches my hand. I cannot recommend this clinic highly enough.