Chiropractic Adjustment Chicago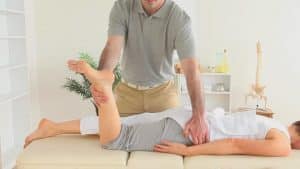 Are you suffering from continuous physical pain and are looking for an alternative way to treat your problem?  Grandview Health Partners is a leading chiropractic clinic for chiropractic adjustments in Chicago. We offer several treatment options including a natural solution to relieve and manage the stubborn physical pain you may be experiencing.
Understanding continuous physical pain and how it affects you may help you relieve and manage it with routine chiropractic care at our clinic.
Chiropractors Performing Adjustments in Chicago IL
Your First Chiropractic Adjustment in Our Chicago Chiropractic Office
Your First Chiropractic Adjustment: What to Expect. "On any particular work-day, hundreds of thousands of people will enjoy their first chiropractic adjustment and this begins the journey to a better health."
We want to congratulate you!!! Why? Because whichever road you are on, whether it is for relieving that stubborn back pain or it is to maintain a much higher level of health and overall well-being, your choice of receiving a chiropractic adjustment is a great one. This is a method which allows your body's innate ability of healing itself faster instead of allowing a bottle of pills to do the healing for you. In short, you can successfully choose an above down, inside about approach towards healing and better health.
In case you never had the chance of getting a chiropractic adjustment before, there is a whole mystery to it as to what you have to expect during your first visit. Most of the people would delay their first adjustments just because of the misconceptions they have regarding the level of comfort involved. Moreover, a number of folks would simply not tolerate the CRACKING sounds and they are quite anxious to see their chiropractor just because they hate getting their bones cracked. Very important to know that the core purpose of chiropractic adjustments is to help release the stress in the spinal and soft-tissue area and restore the proper functioning of the joints and nervous system. Not to mention that the cracking sound you hear is actually the bi product of the air and gasses that escape as a result of release of tension. Moreover, it isn't necessary that you will hear cracking or popping sounds every time when an adjustment is made. There are various techniques that doctors use to release the stress in the body that doesn't involve any cracking or popping sounds.
What Our Chiropractic Experience is like for Our Chicago Patients
Before you receive your first ever chiropractic adjustment, bear in mind that a thorough evaluation will be performed in order to ensure which treatment is the most appropriate to be rendered out. You could expect to be pleasantly surprised at how satisfying your first adjustment would feel. Any type of chiropractic adjustment to a particular area would help to release the tension in nearly all the crucial areas of your spine and body. The experience is extremely exhilarating for your body and is experienced by millions of people around the world who claim it to be the best pleasures of their life.
Whatever the case might be, all the statistics provided on the safety of chiropractic manipulation are extremely encouraging. It is quite rare for an injury or a problem to occur from a chiropractic adjustment. As a matter of fact, it is safer as compared to most of the medical procedures and is certainly much safer than your drive to the chiropractor's office.
There isn't a better way to live than to have a full functioning, fully optimized life in Chicago and receiving your first chiropractic adjustment in Chicago which is done under extreme care and attentive office. Before your first ever chiropractic adjustment, we also perform a complete history and consultation and perform an evaluation which ensures that there are no contraindications to a chiropractic adjustment and that there aren't any contraindications to any chiropractic manipulation. Ahead of that, we also want our patients to receive the full effects from chiropractic care. The more the time is spent on their first couple of visits investigating their spinal profile, the better results they will enjoy in the long-term.
Below are some of the conditions that might be contraindications to a chiropractic adjustment:
Extremely severe osteoporosis or osteopenia
Unhealed bone fracture
Bone cancer
Here are some of the conditions that require additional screening
History of smoking
Use of birth control pills
History of high-blood pressure
Spondylolisthesis
If you have questions or would like to meet with one of our doctors, please contact our chiropractors for chiropractic adjustments in Chicago to get the appropriate treatment for you.  Call or contact us today to schedule an appointment.
Grandview Health Partners Chiropractic Chicago
Average rating:
1 reviews
Feb 28, 2020
I received great service at Grandview Health Partners. I was never rushed through the appointment and everything was explained in detail by the chiropractors. Their advice and chiropractic adjustments are very helpful in improving my condition dramatically. I'm very pleased with this work so far.