Shoulder, Arm and Elbow Pain Chiropractor Chicago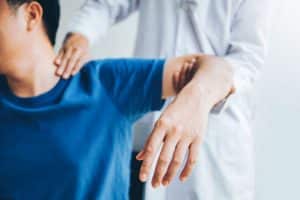 Do you suffer from shoulder, arm or elbow pain?  Grandview Health Partners is a leading chiropractic clinic for shoulder, arm and elbow pain treatment in Chicago. We offer several treatment options including a natural solution to relieve and manage shoulder, arm and elbow pain.
Understanding shoulder, arm and elbow pain and how it affects you may help you relieve and manage it with routine chiropractic care at our clinic.
Chiropractic Treatment for Shoulder, Arm and Elbow in Chicago IL
What is Shoulder and Elbow Pain?
Both shoulder and elbow pain can prevent your from living your life to its fullest and from doing the things you love the most. Both shoulder and elbow pain are commonly associated with adolescent and adult athletes as well as those who are involved in physical work and repetitive jobs. When shoulder pain is ignored and not treated properly this can cause people to avoid moving their shoulder which can rapidly progress into more complicated issues such as a "frozen shoulder" where the ligamentous capsule around the shoulder joint stiffens up and actually prevents the shoulder from being able to move at all. Also when people avoid using one shoulder due to pain, they often use their other shoulder more to complete their daily tasks which can result in an overuse syndrome involving pain in their good shoulder.
How Can Chiropractic Care Help Those with Shoulder and Elbow Pain?
Chiropractic care is a great way to manage and relieve the pain, swelling and discomfort which is commonly caused by shoulder and elbow injuries. Chiropractic care for shoulder and elbow injuries involves much more than just joint manipulations or mobilizations. Although these are both important elements in treating a shoulder or elbow, chiropractors will also focus on the muscles that move these joints. Depending on what an individual does on a daily basis we often find that certain muscles surrounding the shoulder are particularly weak which makes their job of stabilizing the shoulder hard to do when we lift, push and pull heavy objects, reach out in front or above our head. By identifying these weak muscles and showing our patients specific exercises to strengthen these muscles the shoulder is better able to function as it was intended and pain often becomes a thing of the past.
The elbow is very similar to the shoulder in that our elbows can be subjected to very heavy or repetitive loads that pull on the tendons and ligaments that stabilize this joint. By first identifying weak muscles and then providing our patients with specific stretching and strengthening exercises our chiropractors have been able to help many patients say goodbye to long standing elbow and forearm complaints.
If you are suffering from shoulder, arm or elbow pain let our chiropractors perform a thorough examination and consult with you on how best to treat your condition. If necessary, we may refer you for diagnostic imaging like X-Ray and MRI and based on these findings, your doctor may opt to co-treat your condition with other healthcare professionals such as an orthopedic surgeon.
If you want to see if chiropractic care is right for your condition, please contact our chiropractors for shoulder, arm and elbow pain treatment in Chicago to get the appropriate treatment for you. Call or contact us today to schedule an appointment.
Grandview Health Partners Chiropractic Chicago
Average rating:
1 reviews
Feb 28, 2020
A little while back I injured my elbow, and made an appointment with another chiropractor and that appointment fell through and I was looking for something right away because I was in such pain. Grandview Health Partners to the rescue! I came in and was nervous because it was my first treatment and I was coming in with an elbow injury. Within a couple of treatments, I was back to normal with my elbow. They were awesome. Both of the doctors at this location are great and very friendly staff