Myofascial Release Chiropractor Chicago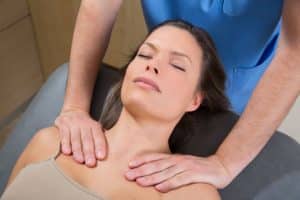 Are you suffering from constant aching pain and limited motion?  Grandview Health Partners is a leading chiropractor clinic for myofascial release treatment in Chicago. We offer several treatment options including a natural solution to relieve and manage constant aching pain and improve motion.
Understanding constant aching pain and limited motion and how it affects you may help you relieve and manage it with routine chiropractic care at our clinic.
Myofascial Release Massage in Chicago IL
What is Mysofascial Release?
Myofascial Release (MFR) is a safe and very effective hands-on technique that involves applying gentle sustained pressure into Myofascial connective tissue restrictions to eliminate pain and restore motion. MFR releases adhesions within the fascia, which is a thin sheath of fibrous tissue enclosing the muscle.
What Type Of Conditions Can Benefit from Myofascial Release?
Chronic conditions
Shoulder injuries
Pinched nerve
Running injuries
Hamstring injuries
Many different conditions throughout the body can benefit from myofascial release. The pain that arises is due to the adhesion and fixation of tissues often due to postural stress, inflammation, injury or lack of proper range of motion.
If you have questions or would like to meet with one of our doctors, please contact our chiropractors for myofascial release treatment in Chicago to get the appropriate treatment for you.  Call or contact us today to schedule an appointment.
Grandview Health Partners Chiropractic Chicago
Average rating:
1 reviews
Feb 28, 2020
The entire staff here are welcoming and friendly. I would highly recommend this space for anyone seeking opportunities for Myofascial Release Massage and wellness!