Workers' Comp Chiropractor Chicago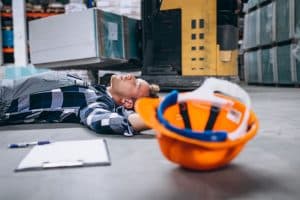 Do you suffer pain from an injury you suffered at your place of employment?  Grandview Health Partners is a leading chiropractor clinic for work injury treatment in Chicago. We offer several treatment options including a natural solution to relieve and manage physical pain sustained from a work injury.
Understanding physical pain from a work injury and how it affects you may help you relieve and manage it with routine chiropractic care at our clinic.
Work Injury Chiropractor Treatment in Chicago IL
Have you suffered an injury at your place of employment?
What happens if you are injured at work?   Which doctor would you go to?  Who would pay the bills?  Would you get fired?  Most people go to work each day not thinking about these questions, but when an injury happens at work it can be a very difficult and sometimes life changing experience. The difference between getting the proper medical care and receiving all of your benefits can come down to the decisions you make as soon as the injury happens.
Grandview Health Partners Can Help with Your Workplace Injuries
Grandview Health Partners has treated thousands of work injury patients with many different types of injuries and conditions.  We understand many of the challenges that injured worked face and will help you to receive the proper care and benefits that you are entitled to.
What are the benefits?
They can include: Medical Care paid for by your employer, to help you recover from an injury or illness caused by work. This includes doctor visits and other treatment services, tests, medicines, equipment, and travel costs reasonably necessary to treat your injury.
You also may be entitled to: Temporary Disability Benefits. Payments if you lose wages because your injury prevents you from doing your usual job while recovering. Permanent Disability Benefits. Payments if you don't recover completely and your injury causes a permanent loss of physical or mental function that a doctor can measure.
Appointments with the Grandview Health Partners network of medical doctors, specialists, chiropractors and diagnostic facilities are usually available on the same day to get our patients in quickly without unnecessary delay.
What should you do if you are injured at work?
You should inform your employer as soon as possible about your injury. Any delay in the notice can delay the payment of benefits.
See a doctor for an evaluation as soon as you are able. If it is an emergency go to the ER or Urgent Care directly.
What should your employer do?
Provide all necessary first aid and medical services
Inform the insurance carrier or worker's compensation carrier
If the employee cannot work for more than three days because of the injury, the employer must:

Begin payments of TTD; or
Give the employee a written explanation of the additional information the employer needs before it will begin payments; or
Give the employee a written explanation of why benefits are being denied
For more information the Illinois Workers Compensation Commission provides a free handbook:
https://www2.illinois.gov/sites/iwcc/Documents/handbookinspanish.pdf
Make sure to choose a doctor who will put your needs first!
Unfortunately some injured workers receive only minimal care from a workers' compensation "company" doctor where they are sent after getting hurt.   Patients complain that the company doctor doesn't seem to care about them, makes them wait hours for an appointment, and quickly releases from care when they are still in pain, or with the excuse that the pain is caused by a degenerative condition or arthritic changes which are not work-related.
The most important thing you can do is to provide an honest account of your injury and of your symptoms on every visit.  Then find a doctor who is a patient-first advocate and has only your interests in mind.  Grandview Health Partners always places our patients first and we know that every patient who comes to see us has their own story to tell. Because of our extensive experience in helping so many patients with work injuries and our patient-centered approach, Grandview Health Partners has become the trusted name in Chicago. Our patients trust our ability to provide medical care in their times of need and to make sure everything will be taken care of. This is where the 'Mas' in Grandview Health Partners fits in. We go beyond providing great care and take care of the individual details that make the difference.
If you have suffered on the job injury or if you are dealing with pain or issues of any kind, Grandview Health Partners can help. We will work with you to help develop a plan to treat your condition and help get you the benefits you deserve.
If you want to see if chiropractic care is right for your condition, please contact our chiropractors for work injury treatment in Chicago to get the appropriate treatment for you. Call or contact us today to schedule an appointment.
Grandview Health Partners Chiropractic Chicago
Average rating:
1 reviews
Feb 28, 2020
Excellent! my wife had a strong lesson in her neck, the Dr. and his team showed interest, kindness, and respect from the first moment.

(Not like in another clinic that we visited first and they made us wait almost 3 hours they charged us money and in the end the doctor did not see us in person and said come back tomorrow because today we can do nothing)

He took the necessary time to make the diagnosis and explain the problem and also how to solve it.

At first sight, my wife noticed a decrease in pain as 70%

Thanks to therapy and manual adjustment of the vertebrae of the neck.

Based on what I saw personally, I highly recommend Grandview Health Partners for work related injuries.