Chiropractors Treating Whiplash in Chicago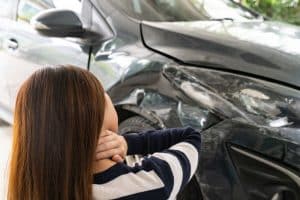 Do you suffer from chronic neck pain due to a whiplash incident?  Grandview Health Partners is a leading chiropractic clinic for whiplash treatment in Chicago. We offer several treatment options including a natural solution to relieve and manage chronic neck pain.
Understanding chronic neck pain caused by whiplash and how it affects you may help you relieve and manage it with routine chiropractic care at our clinic.
Whiplash Injury Treatment in Chicago IL
What is Whiplash?
Whiplash is a very common injury which usually occurs as a result of the rear impact when you are in a stationary position. For example, when you are seated stationary in your car and someone hits you from behind. Our chiropractors at Grandview Health Partners and the massage therapists with years of experience in diagnosing and treating whiplash symptoms with a gentle, manual and proper therapeutic methods which help your body to heal naturally.
Whiplash is an extremely painful injury that occurs to your neck and usually happens as a result of car accident that has hit you from behind when you were at a stationary position at the red light. This sudden impact from behind without any warning cases the head to dramatically jerk backward and forward with a strong force. Because of this sudden jerking motion, too much strain occurs on the soft tissues located in your neck which causes serious pain.
If you delay the treatment process for whiplash, the neck muscles and tissues will lead to chronic physical symptoms along with affecting your emotional health and overall well-being. It is very uncommon that men and women who have suffered whiplash experience any depression and anxiety symptoms. Our team at Grandview Health Partners make use of holistic yet a whole-person approach towards your health care. They will treat your whiplash pain keeping a patient-centered perspective in mind which involves physical, mental and emotional well-being.
How to Tell if You Have Whiplash
Most of the symptoms of whiplash appear within 24 hours following the injury and includes stiffness in the neck along with headache. Some other symptoms include:
Mild to severe neck pain
Dizziness
Extreme fatigue
Blurred vision
Tingling in the arms
Difficulty in concentration
Irritability
Hindered range of motion in the neck area
Trouble sleeping
Depending on how severe your injury is, it can take a couple of weeks to up to a few months to fully recover from whiplash. Our team at Grandview Health Partners includes chiropractors, acupuncturists, massage therapists and healthcare professionals who will layout a customized treatment plan to help you get quick relief from whiplash.
What is the Treatment for Whiplash?
After the diagnosis of the severity of your whiplash, treatment for whiplash includes different types of therapies like chiropractic adjustments which help to gently realign the neck and minimize pain while you heal. Other treatments for whiplash include:
Different researches show that resting your neck too much or keeping them immobilize for too long actually leads to chronic pain and long-term whiplash symptoms. At Grandview Health Partners, our professional and experienced chiropractors will tell you exercises and movements that help the most in healing process and also the ones that you should avoid until fully healed.
If you have been recently into a car accident or experienced any injury whilst playing your favorite sport and you experience symptoms of whiplash, feel free to call our team of professional chiropractors to help you with your symptoms. You can also make an appointment online.
If you want to see if chiropractic care is right for your condition, please contact our chiropractors for whiplash treatment in Chicago to get the appropriate treatment for you. Call or contact us today to schedule an appointment.
Grandview Health Partners Chiropractic Chicago
Average rating:
1 reviews
Feb 28, 2020
I came in when my neck stiffened and could look over my shoulders and the chiropractors at Grandview Health Partners really do take the time to help you on your along your healing journey.